"The Great [North] American Eclipse" Part 2
On Monday, April 8th, 2024, the next installment of "The Great American Eclipse" — the northern version — will take place — tracking a path from southwestern Texas through the Midwestern U.S., through the northeast, and on into Quebec, Canada...
Join Twilight Tours as we again take up the pursuit of the lunar umbra, or shadow, as it makes its way across the arid plains of southwest Texas.
This will be our 17th tour to observe and capture the most incomparable sight in amateur astronomy — a total eclipse of our sun.
Accommodations are firmly under contract. A specially reserved observing site — using permanent premises with restrooms, rooms for shade relief and rest, a well-developed observing area for equipment set up the day prior to the eclipse, and complimentary cold refreshments and snacks on eclipse day — has been guaranteed. This site will see some 4 minutes, 17 seconds of glorious totality, with the sun situated some 68° above the horizon. Also, there will be security personnel provided on site to watch over any equipment set up prior to eclipse day itself.
Weather prospects, similar to the "Great American Eclipse" of August 21, 2017, are projected to be the most favorable across the initial portion of the eclipse track — which includes southwest Texas.
Our "base of operations" will be in the vibrant city of San Antonio, Texas. Hotel accommodations are at the exclusive, 5 star Omni La Mansion Del Rio property, in the famous San Antonio Riverwalk neighborhood.
The tour cost includes 3 nights' stay at the Omni La Mansion, breakfast each day of the tour, transportation to/from our reserved observing site located <20 miles from the eclipse centerline, a gala celebration banquet following the eclipse event, and Twilight Tours' expert logistical and technical guidance and support that have been a hallmark of our trips for 35 years.
Space is limited on this tour and is expected to fill quickly, so submit your registration form without delay.
---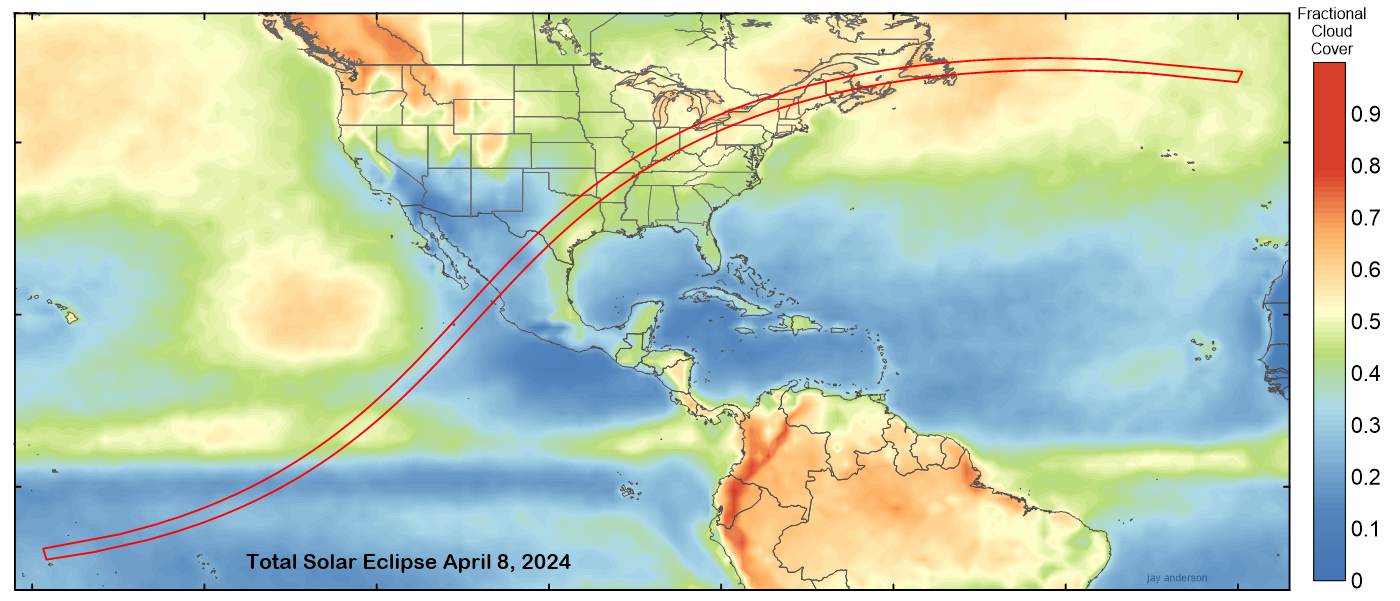 2024 eclipse track cloud cover (see https://eclipsophile.com/)

Sources of solar filters:

General Travel Links: