On Tuesday, July 2nd, 2019, a total solar eclipse will take place in Earth's southern hemisphere. The eclipse will mainly occur over the Southern Pacific Ocean, and will not make landfall — save for tiny Oneo Island in the Pitcairn Group — until the lunar umbra reaches South America.
There, the moon's shadow comes ashore in Central Chile, in the college town of La Serena, and then makes its way in a southeast direction through the Elqui Valley, across the rugged Andes Mountain range, and on into North Central Argentina, ending at sunset — barely missing the bustling city of Buenos Aires.
Following on the heels of its highly successful August 21, 2017 interception of 'The Great American Eclipse' in Glendo, WY, Twilight Tours now presents its program to observe this next installment of nature's most dramatic astronomical event — a total eclipse of the sun.
Led by veteran eclipse 'chaser' Joel Harris, who has personally observed some 20 total solar eclipses reaching back over 44 years with a success rate of 95% at seeing totality, Twilight Tours will return to the La Serena/Elqui Valley region — scene of one of its first astronomical tours back in 1986 to observe Halley's Comet — as well as subsequent trips to that locality for both astrophotography and feature articles in Astronomy magazine. Totality in that area is projected to last 2 minutes and 25 seconds at a solar altitude of 13' above the horizon.
The tour will begin in the bustling capital city of Santiago, Chile, and proceed up to La Serena by surface transportation, via a scenic and pleasing 5 hour ride up Route 5, (the Pan American Highway). The group will be housed at the Club Playa Blanca Resort, in the town of Tongoy, just 20 km outside the eclipse path of totality. Following our tour activities there, the tour returns to Santiago where participants will fly home at the tour's conclusion.
Highlights of the tour include: a day long excursion up the Elqui Valley to the town of Vicuna and visits to the Gabriela Mistral Museum and the Control Pisco Distillery, a nighttime observing session of the southern sky (weather permitting), a day tour of Santiago including a gondola ride up to the summit of San Cristobal Hill, and daily activities at the Playa Blanca Resort including swimming, beach side relaxation, and various water sports. Following eclipse day, there will be a tour of Cerro Tololo Inter-American Observatory north of La Serena.
Weather prospects for observing the eclipse from within the Elqui Valley are projected to be the best in Chile, according to Jay Anderson, THE recognized subject matter expert regarding eclipse weather prospects.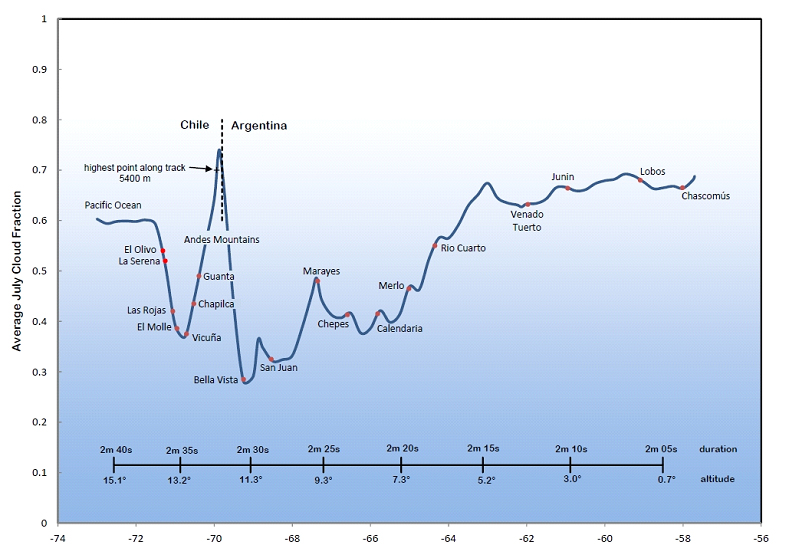 As always, this tour has been constructed to provide our participants with the maximum value added for the tour cost, while keeping the price at an affordable level.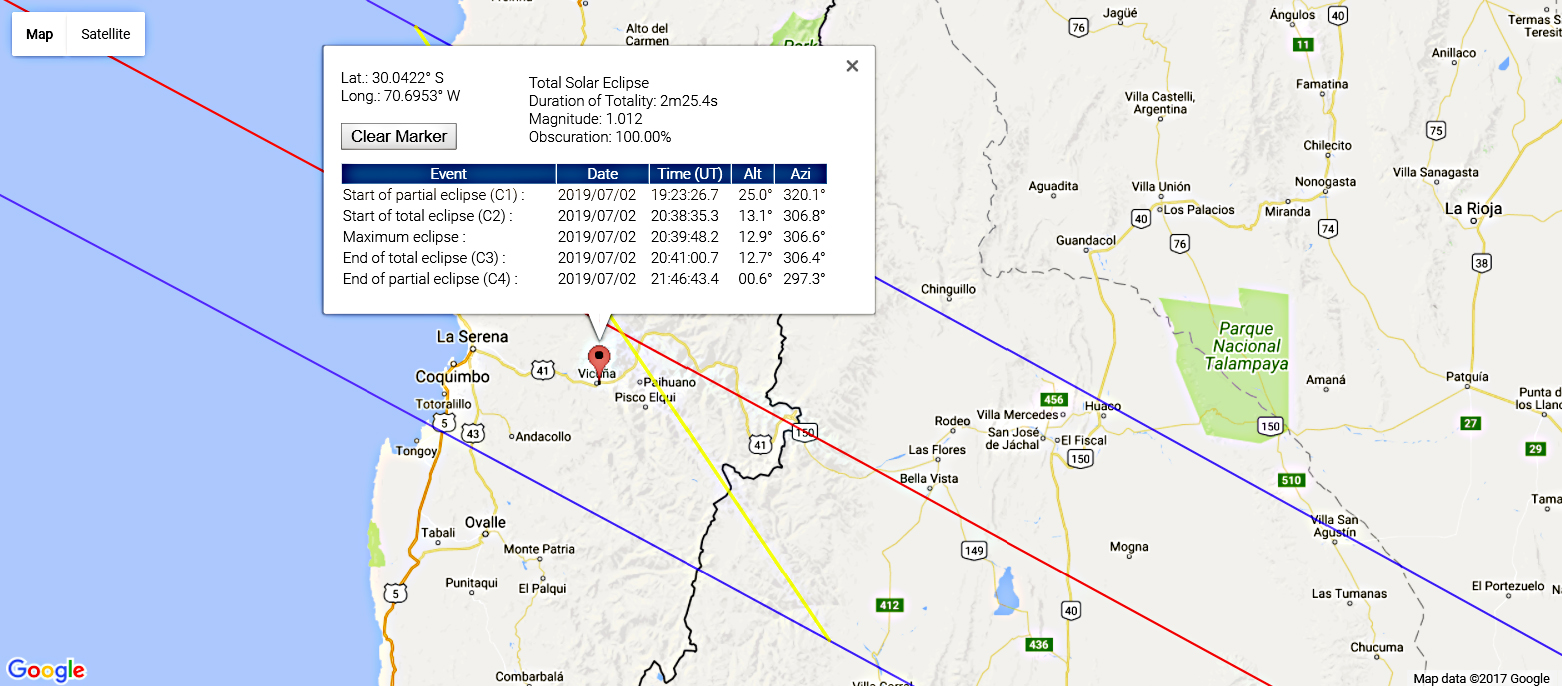 Approximate anticipated eclipse observing location (subject to change). Map created using NASA's interactive eclipse map viewer.

We invite you to come participate in this most exotic and intriguing tour in July of 2019 — you won't want to miss it!!
Itinerary and Registration Form * Please note that prices are based on our best estimates at this early date. Due to changes in travel costs (e.g. equipment rental, fuel costs), tour prices may be adjusted as we approach the eclipse date.


Sources of solar filters:
General Travel Links: